Variable Frequency / Speed Drives MI9100 series
Commonly known as AC Drives, Variable Speed Drives, Frequency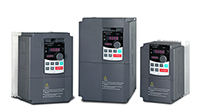 Converters, Frequency Inverters etc. Used to control the speed and torque of electric motors. Common uses can be found in conveyors, irrigation pumps for parks and agriculture, bore pumps, water treatment, cranes, lifts, fans, car park ventalation systems.
The MI9100 series of VSD's are manufactured to and have obtained the following standards CE, SGS, ISO9001 and C-Tick.
The MI9100 series of variable speed drives are a multifunction, high / constant torque type VSD which employs vector control to provide excellent cost to performance characteristics.
Control modes available (SVC, VF).
Automatically recognises motor parameters.
RS-485 communication interface, with MODBUS protocol.
Flexible PWM energy braking provides the ability to quickly halt the motor.
Torque output is 150% at 0.5HZ.
Zero speed torque output.
Super silent running. (up to 16Khz carrier frequency)
Quick simple intelligent menu design.
Simple PLC, PID adjustment.
Trip suppression and stable running.
High stability, strong anti-interference design.
Dynamic braking.
DC injection.
Dual-DSP + MCU + IPM provides high performance and high reliability.
Automatic identification of motor parameters and automatic temperature compensation.
Speed and torque control switching whilst online.
Zero servo lock function.
Standard built-in RS485 port / Modbus, adapter supports various Fieldbus.
Optional Profibus, DeviceNET, CANopen, support.
Built-in PG card, built-in brake unit on drives upto 18.5 KW
LCD/LED optional keyboard.
Parameters can be uploaded or downloaded.
Power output: Up to 2.2kw 1 phase (240Vac) and 75 Kw 3 phase (415Vac)
Protection: IP20