ETC-200+ Electronic Temperature Controller
The ETC 200+ is electronic temperature controller with advanced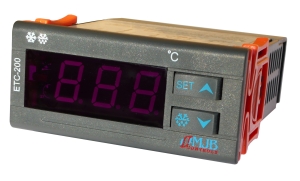 features such as adjustable defrost, alarm, switchable refrigeration and heating modes. The ETC 200+ simple menu makes programming the temperature control easy. Perfect for Bain Maries or display cabinets.
Controls Refrigeration, defrost.
User and Administrator menus separately settable.
Temp display switchable between oC and oF.
Resolution of 1 deg.
NTC Sensor.
Heating or Cooling operation switchable.