MTC-3000 Refrigeration Temperature Controller
The MTC 3000 is an electronic temperature controller with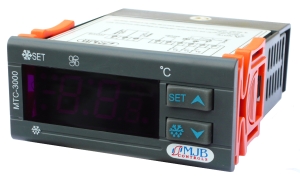 advanced features such as 0.1 deg resolution, administrator, user menus, key lock and copy key function. It is perfect for use in medium and low temperature installations like cool rooms and freezers and display cabinets.
Controls refrigeration, defrost and fan.
User and Administrator menus separately settable.
Temp display switchable between oC and oF.
Temp. measuring and controlling range: -50 ~ +110 ℃
Resolution of 0.1 deg.
COPYKEY function.
Panel size: 75×34.5 (mm)
Mounting size: 71×29 (mm)
Product size: 75×34.5×85 (mm)
Power supply: 240VAC
Compressor relay contact capacity: 10A/240VAC
Blower (fan) and defrost relay contact capacity: 10A/240VA