3PAK 240 Volt - 24 Volt AC Interface Module
The MJB Controls 3PAK has been designed where 240V equipmen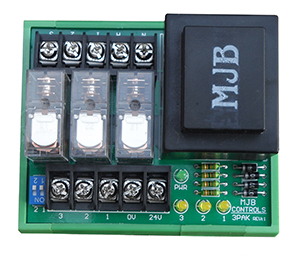 t must be controlled by a 24V thermostat or equivalent device. This simple to install interface module provides total voltage isolation between the equipment (High Voltage) and controller/thermostat (Low Voltage).
The 3PAK has been fitted with LED indicators to provide easy to understand visual indication of each relays status. This can be invaluable during system commissioning and testing, or when having to fault find a previous installation. The 3PAK is fitted with a selector switch that gives the 3PAK the unique ability to control a heat pump system using a standard Heat/Cool thermostat if changing the existing thermostat is not desirable or possible.
The 3PAK's enclosure provides secure mounting on either standard 32mm or 35mm DIN rail. The 3PAK has been designed with the HVAC/R installer in mind. It has been built like all MJB Controls products to be simple to understand, simple to install and reliable.
Typical use of the 3PAK is to interface between a 24V heat and cool or heat pump room thermostat, a cool only or heat pump air conditioner unit.
Available at all Refrigeration Wholesalers Australia wide.
Relays rated at 240v 16A.
LED indication of all functions.
Universal DIN rail mounting.
Advanced control options. (DIP Switchable)
Smart Temp Smartpak03
Smart Temp Smartpak04
Smart Temp Smartpak05
Smart Temp Smartpak06
Smart Temp Smartpak 240-24 Volt Relay Interface
Avion INT200
Airfact 6RLB
Hanwest IB057
Bradway ISOPAC3S
Bradway ISOPAC4