WPDT Wireless Programmable 7 Day Digital Thermostat
The WPDT series thermostat is a wireless thermostat and controller that can be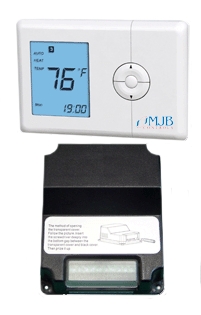 placed anywhere in your home to control your heating and cooling system. It provides automatic time and temperature control of heating or cooling systems in apartments and homes.
The thermostat pack consists of a room unit and a relay box. No wiring to the room unit is required.The installer only needs to wire the relay box to the controlled device, e.g. heat pump, gas, oil, electric heater etc and mount the room unit in a suitable location where RF communication is reliable. The WPDT thermostat uses reliable RF communication technology in the 433MHz band.
The unit is ideal for consumers who want reliable and precise temperature control from a modern looking, simple to program and easy-to-use product. The WPDT room thermostat now uses a rechargeable LI-ion battery which is conveniently recharged by a mini usb socket. The days of flat batteries at the wrong time is now a thing of the past.
Designed for use in 24 Vac control systems with multi stage (2 heat and 2 cool).
7 Day Programmable
Mutiltage Heat/Cool
Suitable for Heat Pump or Gas Heat/ Cool
433 MHz Frequency -Pulse Code Modulation
Rechargeable LIon battery
Mini USB Connection for Charging
24Vac Equipment Control