PDT7D Programmable 5 + 2 (7) Day Digital Thermostat.
The PDT7D 5 + 2 (7) day digital thermostat is designed to operate with Gas,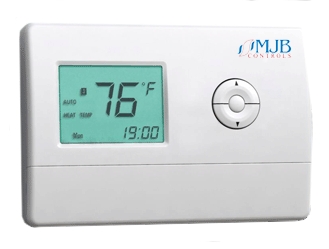 Oil, Electric and Heat Pump systems, as well as other low powered control systems. Single Stage as well as 2 Stage configurations are available on request.
5 + 2 or 7 Days 4 periods programmable.
Selectable options.
Large easy to read LCD display.
24 Volts with battery backup or Battery only.
Bright Green EL back light.
Supports gas, oil, electric, heat pump systems.
12/24 Hour clock.
Filter change indicator.
Cool, Heat, Auto selectable.
Temporary or continuous program override.
Separate heating and cooling set points.
Millivolt System compatible.
Fan operation Manual or Auto.