7 Day Programmable Underfloor Heating Touch Screen Thermostat.
The H8100H is a modern touch screen LCD thermostat designed for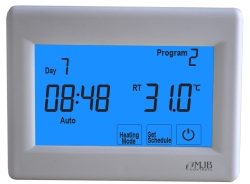 the optimum control of under floor heating installations. It comes with standard features like choice of 7 day, (5/2 day) programmable or non-programmable options which are installer selectable. 4 time and 4 temperature settings per day. Pre-programmed or personalised schedule. Energy savings up to 33% can be obtained by using the H8100H.
Large, 4.3-inch touch screen display.
Blue, lighted display for easier low-light viewing.
Larger, easy-to-read character size.
Extra-large touch keys for easy operation.
Clean, uncluttered touch screen display provides easier navigation.
Intuitive menu-driven set-up, programming and operation with audio prompt
to confirm touch screen entries.
Permanent program retention during power loss.
Setpoint temperature "limited range" capable.
Enhanced touch screen security prevents tampering.
Room temperature display can be calibrated up to +/- 4°C.
Can switch up to 16 amps (240v).
Temperature display resolution: 0.1 C.
Temporary temperature override.
C / F temperature format selection by buttons.
Air / floor temperature calibration can be done separately.
A / AF/ F models all in one
Combination of 3 models.
A - Air only, with built-in sensor.
F - Floor only,controls floor temperature.
AF - Controls air temperature with ability to limit the floor temperature.
Each thermostat is equipped with built-in sensor plus 3 metre floor sensor.
The floor sensor can be extended if required.
24hr/12hr clock format selection.
Switching differential setting.
Floor temperature limit.
Available in white and silver finishes as well as horizontal and vertical models.
Smart Temp SMT-101 Heat Only
Smart Temp Microstat Heating Thermostat
Amuheat AT8100
Amuheat AT8100V