ZC4 Air Conditioning Zone Controller
The ZC4 is a microprocessor based HVAC zone control system that can be used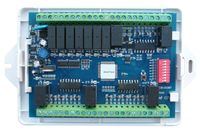 with any standard or programmable thermostat or thermostats (input type "RYWG") such as the MJB Controls PDT7D. This will allow the control of any heating, cooling or air conditioning system with up to 4 zones (plus 1 spill or bypass zone).
Each zone can be independently controlled by its own thermostat and hence can be set to the occupants individual temperature needs. Also if the ZC4 is used with programmable thermostats then each zone can be individually controlled on different time schedules as well as temperature settings.
4 Zone control.
Individual zone times.
Individual zone temperatures.
LED Status indication on all inputs and outputs.
Heat/Cool and Heat Pump logic as standard.
Heating, Cooling and economy cycle.
Isolated inputs and outputs.
Multi stage equipment control.
Multi fan speed control.
Finger proof plastic case.
24 Volt Powered.